Crimsafe Ultimate redefines security screens by offering superior strength, versatility and architectural styling.
Take your home security to the next level with the superior strength, versatility and architectural styling of Crimsafe Ultimate.
This upgraded Crimsafe screen is not only superior – it can withstand an impact that is up to seven times stronger than the level required by the Australian standard.
Crimsafe Ultimate's incredible strength is achieved through uniquely engineered features, including Screw-Clamp™ technology that secures the 304 structural grade stainless steel mesh to the entire frame with a vice-like grip. Additionally, Crimsafe Ultimate utilises twice as many screws as Crimsafe Classic, concealed within the fastening system for greater stability and strength. At the same time, a wider, stronger frame improves rigidity and jemmy-resistance against would-be intruders.
Crimsafe Ultimate security screens are available in the widest variety of applications to suit your home or lifestyle needs.
How strong is Crimsafe Ultimate?
Crimsafe Ultimate has been designed to withstand tremendous levels of impact. In fact, Crimsafe Ultimate is up to 7 times stronger than the Australian Standard.
What makes Crimsafe Ultimate so strong?
A unique combination of materials and technology is what gives Crimsafe Ultimate its superior strength.
Crimsafe's Screw-Clamp™ technology secures the mesh to the entire frame with a vice-like grip.
Crimsafe Ultimate uses twice as many screws concealed within the fastening system for greater stability and fastening.
Crimsafe Ultimate doors are reinforced with three locking points, as standard, to secure the door into the frame upon locking.
Our specially developed Crimsafe Tensile-Tuff® mesh uses 0.9mm, 304 structural-grade stainless steel. This means that our woven mesh is up to 26.5% thicker than most other mesh products on the market that use 0.8mm wire.
A clip-on cover conceals the screws to prevent tampering
A wider frame for improved rigidity and jemmy-resistance against would-be intruders.
What is the warranty for Crimsafe Ultimate?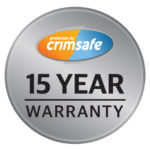 When you invest in Crimsafe Ultimate, you can rest assured that your product is backed by our comprehensive 10-year warranty that can be extended to 15 years for ultimate peace of mind.
What makes Crimsafe Ultimate the right choice?
Crimsafe Ultimate provides the ultimate in security and is suitable for residential and commercial applications. Crimsafe Ultimate takes visual appeal to the next level, providing homeowners and business owners with a smooth, streamlined aesthetic. Its curved profile is timeless and minimises dust accumulation, making it lower maintenance and easy to clean. The slimline construction hides the fastening system from view for a subtle architectural finish.
Applications
Crimsafe Ultimate offers the most versatility and is available in the broadest range of applications to secure your entire home or business. Crimsafe Ultimate is suitable for:
Hinged doors
Sliding doors
Stacking doors
French doors
Fixed windows
Hinged windows
Sliding windows
Safe-S-Cape™ windows
Security and much more
When you buy a Crimsafe product, superior strength, versatility, and durability come standard. So too does several other benefits that can bring additional comfort and peace of mind to your family.
Unhindered views and a feeling of open space
It's essential to feel safe, but no-one wants to feel closed in behind heavy bars and grilles. Crimsafe security screens are so strong they don't need unsightly bars or grilles – so you maintain a feeling of open space and unhindered views.
Insect protection
In Australia, we love our outdoor lifestyle, but bugs and insects can really spoil the party. Crimsafe security screens keep out all the unwanted intruders, even the smallest ones with a small 1.5mm x 1.5mm aperture.
Airflow and through-breezes
One of the greatest benefits of Crimsafe is the ability to enjoy a breeze and fresh air without compromising your security. Crimsafe allows you to leave doors and windows open while you are at home, making the most of natural light and fresh air, with the comfort of knowing you and your family are safe from unwanted intruders.
Fall protection
Each year, more than 50 children fall from windows or balconies in Australia. Crimsafe provides a strong barrier to prevent falls from windows, while still allowing you to open your windows to enjoy a breeze confidently.
Save on power bills
The greatest heat gain, or loss, in a home, occurs through glass windows and doors. Crimsafe's Tensile-Tuff® stainless steel mesh blocks up to 53% of solar heat gain and 62% of UV rays, keeping your home significantly cooler in summer. In winter, Crimsafe screens also help stop heat escaping, keeping your home warmer. This means less reliance on air conditioning and heating, saving you money on power bills.
Protection from the elements
Australia experiences harsh weather conditions that can batter our homes and cause damage. Crimsafe screens protect your home from more than just intruders:
Heat protection – blocks up to 53% of solar heat gain through glass windows and doors;
UV protection – blocks up to 62% of UV rays, helping to reduce heat and prevent fading of soft furnishings;
Hailstones and flying debris – acts as a barrier for hail and other wind-borne debris, to protect glass windows and doors from breaking;
Fire protection – blocks 59% of radiant flames and heat, slowing down the spread of fire from one floor to another, or to neighbouring buildings;
Cyclone protection – for buildings in high-risk cyclone areas, Crimsafe has a specially designed Cyclone Protection Screen rated for regions C and D.
Frame colour options
Crimsafe's door and window frames are powder-coated for a beautiful and durable finish. A wide range of standard colours is available to suit your home. Custom colours may be available on request.